Message from the President
Message from the President

Message from the President
Joining with Nadex that opens up the future with advanced technologies
For more than six decades since its foundation, Nadex has been expanding its integrated manufacturing- and selling-businesses with the commitment to "joining", thus contributing to "manufacturing expertise" of Japan. Going forward, Nadex will continue to strive to develop cutting-edge technologies related to "joining" and will solve customer's issues from the customer's point of view by offering optimal total solution with "manufacturing expertise".Nadex group has been establishing overseas bases rooted in the local society from its early stage in response to requests by customers expanding overseas, and then strengthening and expanding its capabilities to support customers in response to the growing customer globalization. Nadex group is committed to fulfill the social mission as a corporate group that contribute to customers' manufacturing expertise worldwide through providing the global total solution to its customers. We ask for continued support and patronage from our stakeholders including shareholders, customers and business partners.
Daisuke Shindo President & Representative Director
Origin of the Company Name "NADEX"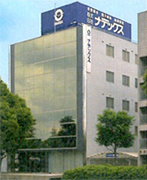 In 1950, Nagoya Dengensha Co., Ltd., the predecessor of NADEX was founded.Later, the company name was changed to NADEX, taking 'NA' from Nagoya and 'DE' from Dengensha, and adding 'X' that means infinite potential. The middle dot in the company name in Japanese means "transmission" or "communication" and has a symbolic meaning of the interface of mutual trust of Nadex with human beings and society.